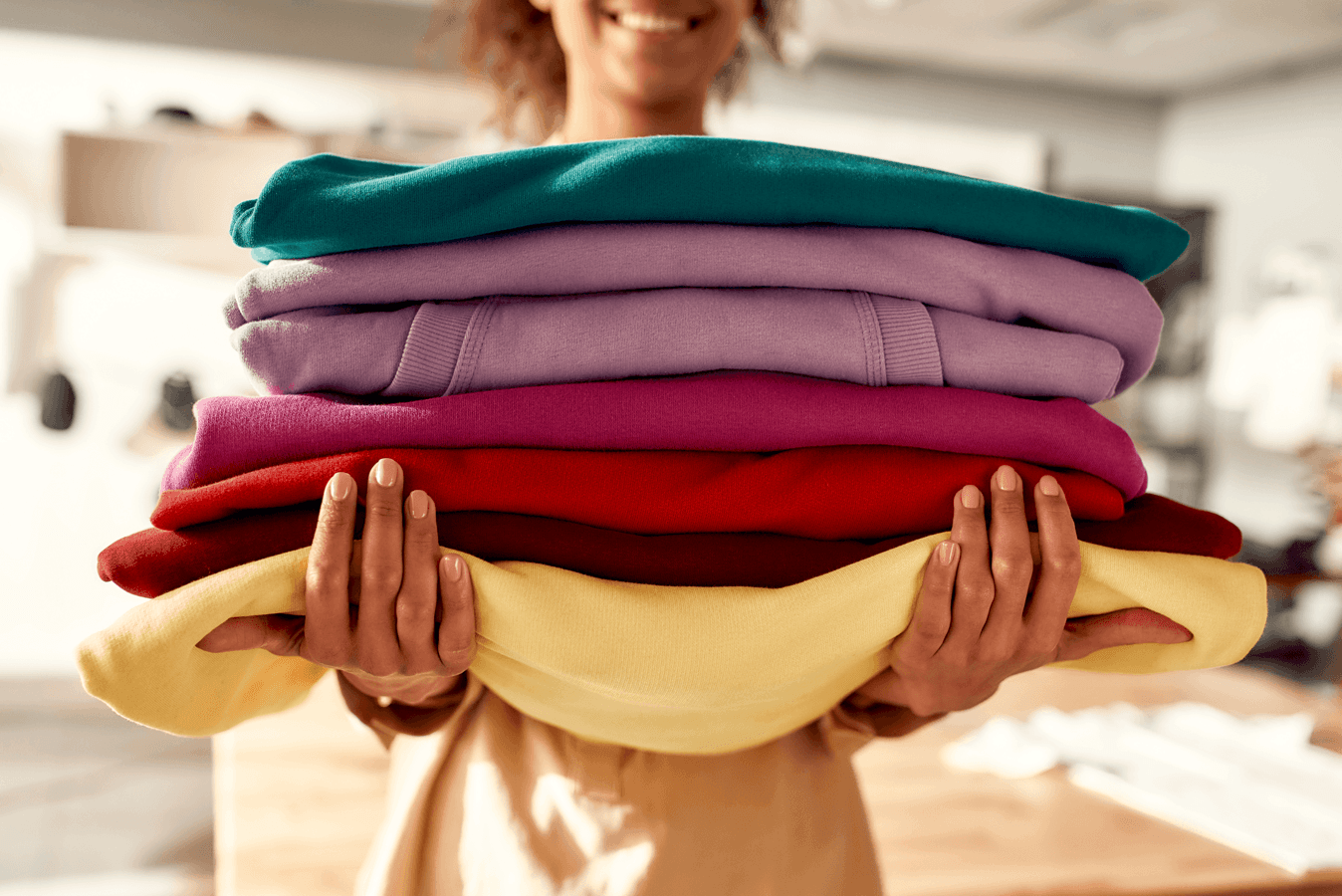 As you embark on your screen-printing adventure, you'll quickly realize the many decisions that await. And because we know just how difficult it can be, we've crafted this comprehensive guide, especially for you, highlighting one of the most pivotal choices: selecting the ideal fabric. Together, we'll navigate the textile landscape, uncovering the nuances that can take your screen-printed creation from standard to standout. So, dive in with us and discover the keys to exceptional screen-printing outcomes.
The Importance of Choosing the Right Fabric for Screen Printing
Selecting suitable fabric is more than just finding a backdrop for your design; it's about ensuring your artwork truly shines. A fabric's texture, weight, and stretch can influence the final look. When paired correctly with the ink, the material ensures designs integrate smoothly, leading to a polished and professional result. Let's delve deeper to understand the significance of this crucial choice.
Cotton vs. Polyester for Screen Printing
Cotton: Revered for its natural origins, cotton offers a soft, comfortable feel, making it an ideal choice for casual wear. Its absorbent nature ensures that inks penetrate deeper, offering a richer, more vibrant print. However, being a natural fiber, cotton may be prone to shrinking, and its colors may fade over time with repeated washings.
Polyester: This synthetic powerhouse is known for its resilience. As it is non-absorbent, inks tend to sit on its surface, making prints exceptionally vibrant. Additionally, its resistance to shrinking and wrinkles and its ability to retain color, make polyester a sought-after choice for sportswear and other apparel where durability is a priority.
The Versatile World of Blends in Screen Printing
blended fabrics take center stage when it comes to marrying the best of both worlds in textiles. These materials ingeniously combine the characteristics of both natural and synthetic fibers to offer unique advantages.
Take the widely favored cotton-polyester blend: it harnesses the softness and breathability of cotton with the resilience and longevity of polyester. This harmonious union results in a fabric that feels good against the skin and stands the test of time, making it a top choice for those seeking durability and comfort in their screen-printed apparel. As you navigate your screen-printing journey, understanding the strengths of blends can be a game-changer in achieving the desired outcome.
The Elegance and Nuance of Rayon and Linen in Screen Printing
In the rich array of textiles suitable for screen printing, rayon and linen stand out, each with unique allure and challenges.
Rayon: often dubbed the 'fabric of finesse,' rayon boasts a luxurious touch that is smooth, cool, and absorbent. Its sleek surface provides an excellent canvas, making prints vivid and striking. However, with its elegance comes a caveat. Rayon's susceptibility to wrinkles means that while it may deliver an image pleasing to the eyes, it demands a gentle hand and careful maintenance to retain its pristine finish.
Linen: Conjuring images of sun-soaked fields and nature's touch, linen carries a raw, earthy charisma. Its distinct natural texture imparts an artisanal feel to prints, offering a rustic charm that's hard to replicate. But, like all things organic and textured, linen has its quirks. While it holds prints admirably, its coarser texture can interpret detailed designs uniquely, offering a result that's often a blend of the artist's intent and the fabric's personality.
Color and Texture for Screen Printing
In screen printing, fabric hue, and texture work hand-in-hand to influence the result. A fabric's color can either amplify or mute the vibrancy of the ink. Bright shades, for example, shine effortlessly on light textiles but may require extra layers on darker ones.
Texture, too, has its say. While a sleek fabric like sateen offers a smooth canvas for prints, a textured choice like slub adds depth and character, intertwining with the design to give it a distinct, organic touch. It's this delicate interplay that crafts the final, captivating print.
Weight and Stretch in Screen Printing: Striking the Balance
In screen printing, a fabric's weight influences its drape and feel. Robust materials, like denim, provide structure, ideal for bold designs. Conversely, lighter fabrics, like voile, float delicately, requiring careful handling during printing.
Fabrics with stretch, such as elastane, present unique challenges, necessitating specialized inks and methods to ensure designs remain crisp and crack-free. Understanding these nuances is critical to a successful print.
Tuning into Customer Desires for Screen Printing Choices
In today's bespoke-driven landscape, tapping into customer inclinations is paramount. While some customers may be drawn to the timeless allure of 100% cotton tees, others might lean towards the polished appeal of polyester, especially for sporty attire. Staying attuned to market trends and preferences ensures that screen-printed offerings genuinely resonate with the intended audience.
Ensuring Quality and Longevity in Screen Printing
In the realm of screen printing, crafting a print that stands the test of time is not just an aspiration but a necessity. While the choice of fabric lays the foundation, the intricacies of the process, from meticulous pre-treatment to precise curing temperatures and even the caliber of the ink, all converge to define the print's durability.
Diving into these finer points not only elevates the quality of the output but also acts as a safeguard against potential pitfalls, ensuring that resources are channeled efficiently and that each print is as desired, and more.
Moisture-Wicking and Breathability in Screen Printing.
In an age where dynamism and active pursuits are celebrated, the fabric's ability to stand up to swat and exertion becomes invaluable. Moisture-wicking attributes, predominantly inherent in synthetic materials, actively channel moisture away from the body, promising unyielding comfort even in the most rigorous situations.
When these exceptional fabrics undergo screen-printing, the result is a harmonious blend of form and function. This potent combination makes them the go-to choice for sportswear that's not just high-performance but also visually captivating.
Natural vs. Synthetic: The Showdown
In the grand scheme of screen printing, natural fabrics stand as timeless favorites, offering unparalleled comfort and a vintage charm. In contrast, synthetics step into the limelight with cutting-edge features such as advanced moisture management and UV protection.
Deciding between these fabric titans isn't just a matter of aesthetics or tactile experience; it delves deeper, hinging on the product's intended function, its desired longevity, and the nuanced tastes of the target demographic. The balance between these considerations defines the very essence of the final product.
A Final Word
Screen-printing fabric selection is intricate, with each choice echoing in the final product's quality. With many options, from pure cotton to innovative blends, understanding each fabric's unique strengths and weaknesses is crucial in this delicate decision of ink and textile; knowledge and precision lead the way, ensuring creations that stand out in both design and durability.