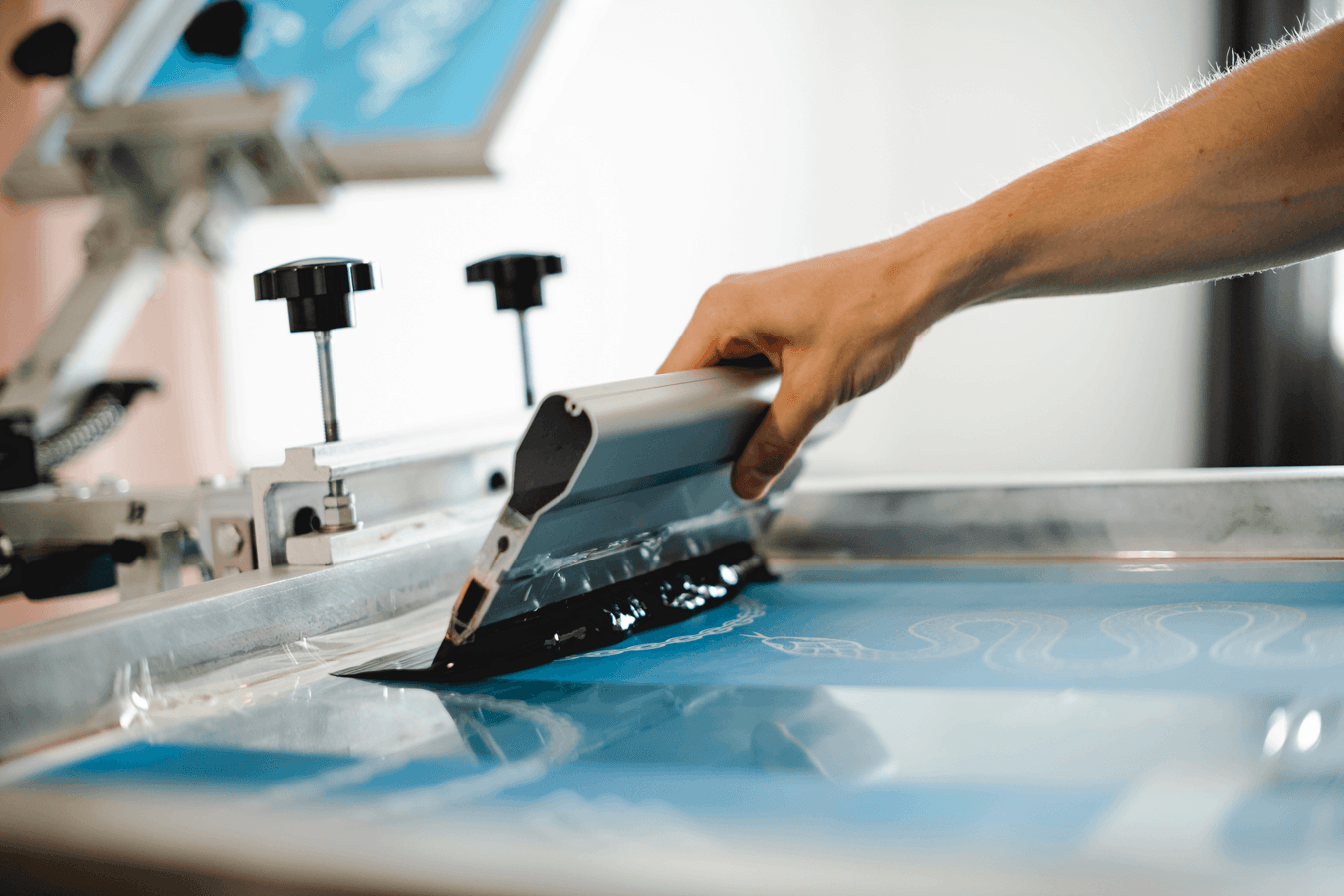 Have you ever worn a t-shirt with a vibrant design or admired a poster with striking visuals? Chances are, you've encountered the magic of screen printing! Tracing its roots back centuries, this method is more than ink on fabric- it's a mix of culture, fashion, and art that has evolved.
Come along with us on this adventure as we explore the captivating journey of screen printing, from its historical roots to the modern techniques that have transformed it into the art form we know today.
Screen Printing History: A Tale of Art, Culture and Evolution
If you venture far enough back through the annals of history, you'll discover that screen printing's story began not in a bustling modern studio but in the ancient realms of China. Initially manifesting as a stencil printing, this craft soon caught the attention and hearts of other Asian regions, most notably Japan.
It was adopted, celebrated, enhanced, and seamlessly woven into their traditional art and garments. As merchants sailed and explorers set foot on new shores, screen printing tagged along, absorbing influences and getting reshaped with every new cultural handshake.
As the world stepped into the fervor of the 20th century, this age-old technique donned a modern cloak, christened 'serigraphy' in the sophisticated corridors of the art world. Enter Andy Warhol, a maestro who recognized his unbridled potential. His legendary Marilyn Monroe portrait from 1962 wasn't just an artwork-it was a statement and emblem of the fusion of commercial vigor and artistic expression that screen printing offered.
Professional Screen Printing: The Blend of Skill, Precision, and Technology
When the conversation shifts to professional screen printing, we're talking about a realm where craftsmanship meets the pinnacle of technology. While DIY enthusiasts and artists might employ screen printing for its raw, hands-on appeal, professionals in the industry aim for consistency, scale, and perfection.
At the heart of professional screen printing is the need for precision. Here, every drop of ink, every mesh in the screen, and every stroke matters. It's a domain where a thousand t-shirts must look exactly the same, and a large banner must be free of blemishes across its entire expanse.
One significant advancement aiding professionals is the introduction of automated screen-printing machines. While retaining the essence of the traditional process, these machines enhance speed and accuracy. They ensure that large orders can be processed quickly without compromising quality.
The realm of professional screen printing is more than putting designs on apparel. It spans industries, from creating intricate circuit boards in electronics to crafting decorative glass and ceramics.
Screen Printing Techniques for Beginners
Have you ever been curious about the world of screen printing? It's a fascinating journey filled with creativity and craft. And while it may seem overwhelming initially, just a few basic techniques can pave the way. Here are some methods for beginners to get you started.
Stencil Method: This is where it all began. A design is cut out of a non-permeable material, placed on the screen, and ink is pushed through the open areas.
Photo Emulsion: This technique involves a photosensitive emulsion. After applying it to the screen, the design, placed on a transparent medium, is exposed to light. The unexposed areas can be washed off, leaving the design the permeable area on the screen.
Drawing Fluid-Screen Filler: It's almost a reverse stencil method. Artists manually apply the design using a drawing fluid and a screen filler. Once the drawing fluid is rinsed off, the design area remains clear, allowing ink passage.
DIY Screen Printing: Empowering the Artist in You
The allure of screen printing is not just its rich history but also its accessibility. Anyone can start their screen printing endeavors at home with basic materials like a mesh, squeegee, and the correct ink. The DIY ethos allows artists to experiment, make mistakes, learn, and produce unique, hand-crafted pieces.
Screen Printing Ink Types
The choice of ink plays a pivotal role in determining a print's finish, feel, and durability. Some of the commonly use inks are:
Plastisol: Widely famous for its vibrant colors and durability. It's ideal for apparel, mainly T-shirts.
Water-based: known for its soft finish, it seeps into the fabric rather than sitting on top. It's eco-friendly but might not be as vibrant as Plastisol.
Discharge: Used for dark fabrics, this ink removes the fabric's dye and replaces it with the ink color.
U.V. Inks: These dry instantly under UV lights, making them perfect for high-speed operations.
Screen Printing vs. Digital Printing
While screen printing has been the traditional method of garment decoration, the rise of digital printing in recent decades has presented an alternative. Here's a brief comparison:
Setup: Screen printing requires more initial setup, including creating screens for each color. Digital printing is akin to your regular printer but needs a different arrangement for clothes.
Cost: Screen printing can be more cost-effective for large batches due to the high initial setup cost, which gets distributed over a large number. Digital printing might be more economical for more minor, customized sets.
Feel and Finish: Digital printing infuses the ink with the fabric, producing a soft finish. Screen prints, especially with Plastisol inks, can have a more tactile feel.
Durability: A well-cured screen print can last years, often outliving the printed fabric. Digital images, while improving in quality, might fade sooner.
A Final Word
As we unfold the history of screen printing, weaving together centuries of creativity and precision, we find the magic. From its early beginnings to today's innovative techniques, there's depth to this art that's truly captivating.
Whether you're sketching your next design, sporting your favorite printed tee, or just beginning your journey into this incredible world, there's so much to discover and appreciate. With every evolution in fashion and technology, screen printing, deeply rooted in its traditions and ever-adaptive nature, continues to be a cherished cornerstone in the realm of garment decoration.