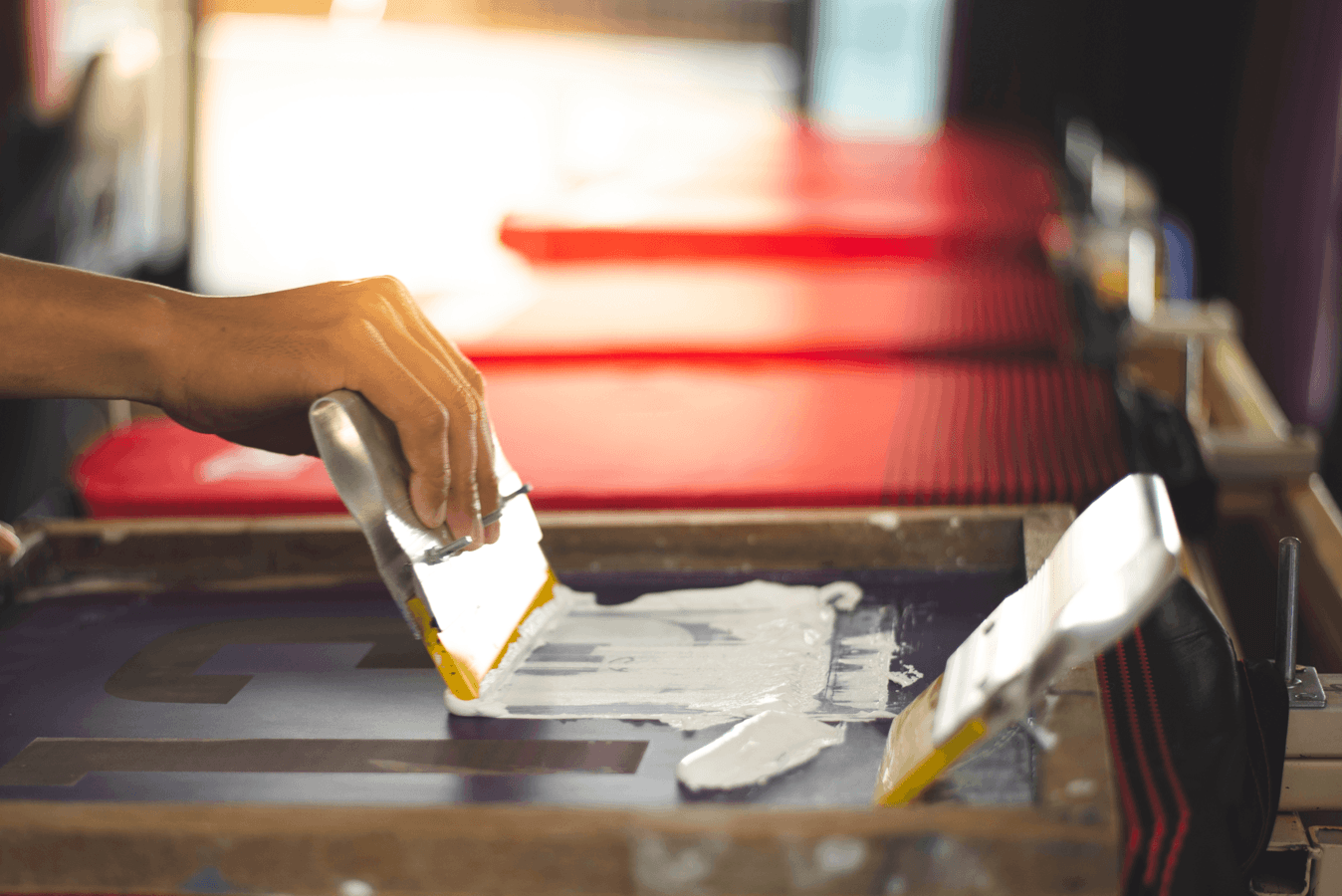 Ah, the world of t-shirt design is an exhilarating blend of artistry and practicality! But when crafting a design specifically for screen printing, you're venturing into a realm where creativity dances gracefully with technical precision. It's about taking that spark of an idea and ensuring it meshes seamlessly with print technology to bloom into its best version on fabric.
Achieving this harmonious union promises vibrant, long-lasting, and downright professional apparel that turns heads. Ready to embark on this journey? Let's dive into the ins and outs of designing t-shirt graphics tailor-made for screen printing, ensuring that what you envision not only dazzles on screen but also shines brilliantly when imprinted on your chosen tee.
Understand The Screen-Printing Process
Screen printing- where the artistry of ink seamlessly intertwines with the canvas of fabric. Before sketching out that stellar design, it's a good idea to wrap your head around the magic of the screen-printing process. Imagine pushing vibrant ink through a finely crafted mesh screen, and voila, your design comes to life on a t-shirt!
But here's where it gets a bit technical: Each hue in your design calls for its own screen. So, the more colors, the more screens! Grasping this nugget of wisdom can be a game-changer, guiding your artistic choices, from the rainbow of colors you pick to the intricate details you weave in.
Simplify Your Color Palette
Who doesn't love a burst of colors? But when it comes to screen printing, sometimes less truly is more. Opting for a full spectrum might be tempting, but it's worth noting that it may not always be the kindest to your budget or the print's clarity.
Here's the silver lining: A restricted palette can be a secret weapon! It nudges you out of your comfort zone, sparking creativity. Suddenly, with fewer shades at your disposal, you dream up t-shirt designs that are inventive and aesthetically pleasing. Talk about a win-win!
The Power of Vector Graphics
Diving into the world of t-shirt design, it's impossible to overlook the significance of vector graphics. What sets vector images apart? It's their resilience. No matter how much you stretch or shrink them, they maintain their impeccable clarity, ensuring your design remains sharp and defined. This makes them the gold standard for screen printing, where every detail matters. Raster images, though popular, tend to pixelate upon resizing, potentially muddling your design's impact.
But with vector graphics, you're safeguarded against such pitfalls. Tools like Adobe Illustrator are a designer's best friend in this realm, allowing the creation of eye-catching cuts and scalable designs, ensuring your artistic vision is perfectly realized on fabric.
AI's Revolutionary Impact on T-Shirt Design
The realm of T-shirt design is currently undergoing a transformation propelled by Artificial Intelligence (AI) capabilities. Artists and businesses are no longer confined to traditional design methods but are leveraging AI tools to generate innovative patterns, graphics, and motifs. These AI algorithms, trained on vast fashion trends and visual design databases, can suggest fresh and on-trend designs, tailor recommendations based on user preferences, or even create unique graphics from scratch.
Additionally, AI-powered software can optimize designs for print quality, ensuring that the colors and details translate perfectly onto fabric. As AI continues to evolve, it's reshaping the boundaries of creativity in T-shirt design, facilitating a fusion of human artistry with machine precision and innovation.
Be Mindful of T-Shirt Color
Choosing the perfect color for your t-shirt is like setting the stage for a play; the backdrop matters as much as the main act. Just think about it; a vibrant graphic can shine or dim, depending on the t-shirt's color. While a design might dazzle on a crisp white tee, the same might seem subdued or invisible on a deep charcoal or navy.
But here's the fun part- this interplay between design and fabric color can be an avenue for creativity! As you explore design ideas, it's vital to envision how they'd appear across different t-shirt shades. Test, tweak, and tailor until you find that harmonious balance where your design not only complements but truly pops against its fabric canvas.
Embrace T-Shirt Design Best Practices
Embracing T-shirt design best practices is essential for consistent quality and appeal. Rooted in foundational principles, these guidelines can steer your creativity towards success. Whether it's ensuring the proper color contrast, optimal design placement, or considering the fabric's texture, these tried-and-true methods offer a roadmap to impactful and lasting designs. Adhering to these tenets elevates your creations from mere designs to wearable art.
Hierarchy: Ensure the most crucial elements of your design are prominent
Balance: Whether color, size, or placement, strive for a harmonious design.
Contrast: Ensure elements distinguish themselves from one another for clarity
Repetition: Repeating certain features can provide rhythm and cohesion.
Test Your Design
Before finalizing, it's advisable to print your design on paper at the size it will appear on the t-shirt. This can give you an idea of how it will look and allow you to make necessary tweaks, ensuring that your custom t-shirt graphics translate well from screen to fabric.
Additionally, this step can highlight any resolution issues or discrepancies in color that might not be evident on a digital display. By taking this precaution, you ensure the design's integrity and save time and resources in the long run.
Avoid Common T-Shirt Design Mistakes
Embarking on the journey of t-shirt design can be exhilarating, but it's also fraught with potential missteps. To ensure your design stands out for the right reasons, it's crucial to be mindful of common errors that can diminish its impact. Steer clear of these pitfalls, and you'll be well on your way to creating compelling, memorable pieces that resonate with wearers.
To ensure your design stands out for the right reasons, steer clear of these pitfalls:
Overcomplicating Designs: Sometimes, simplicity is critical. A cluttered design can be confusing and less visually appealing.
Ignoring Cultural Sensitivities: Always be mindful of symbols, slogans, or images that might offend.
Neglecting Typography: If your design includes text, ensure the font is legible and complements the overall design.
A Final Word
Crafting Custom T-shirt graphics for screen printing is both an art and a science. While creativity plays a central role, understanding the intricacies of screen printing, staying updated with trends, and embracing the best practices can make the difference between a good design and a great one. Whether you're a seasoned designer or a newbie, these tips can serve as a compass, guiding you toward creating compelling, print-ready t-shirt graphics.